October 14, 2021
''When the going gets tough, the tough get going.'' At AAA City Removalist, we want to honour and recognise those in our community who have stood up and fought against the tide. Sydney and all of Australia has gone through a lot in the past couple of years with the pandemic, lockdown and restrictions. One of the most hard-hit sections of society has been the entrepreneurs and businesses who had to bravely face uncertainty every day and still keep their faith. It's time to honour those members of our society who fought against the odds and emerged victorious, which is why AAA City Removalist is, again, sponsoring the 'The Business Leader' category of the Western Sydney Awards for Business Excellence (WSABE) 2021.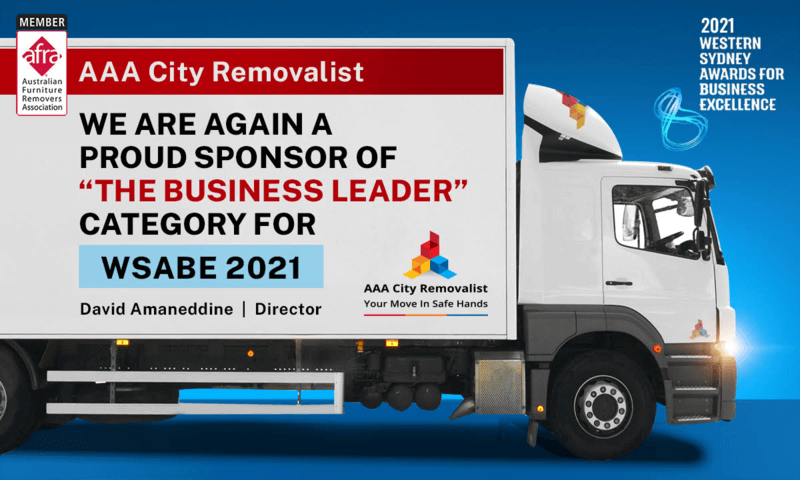 AAA City Removalist Sponsors the 'Business Leader' WSABE Award 2021
Communities Matter – Now More So Than Ever Before 
As a leading Sydney Removalist, one of the core principles of our business has always been to give back to the community. We strongly believe in the power of community engagement and never miss an opportunity to reach out to the people of our community to show our solidarity and support. After all, a great nation is not built overnight. It's built over many years, starting with smaller communities that come together to shape the culture and pave the path for future generations to follow. The WSABE 2021 Awards represents the epitome of the human spirit, business excellence and community engagement. It identifies the mavericks and thought leaders in business across Greater Western Sydney. And we're proud to be a part of such an important and prestigious award. 
Why AAA City Removalist Is Sponsoring 'The Business Leader' WSABE Award 2021
So, why did we choose to sponsor the 'Business Leader' award category? Having been in the business for over sixteen years and gained a reputation as a reliable residential and Commercial Removalist, we know the level of commitment, ingenuity and sheer passion it takes for a business to sustain and flourish in this highly competitive world. Just as we had people who believed in us back when we were a budding business, we want to reach out to promising business leaders in our community and show them that their hard work and efforts have not gone unnoticed. When you recognise and honour excellence, not only are you encouraging the entrepreneur but showing the world that when you dare to think differently, take risks and don't cower in the face of adversity, you can achieve greatness – and the world will applaud you for it.   
WSABE Awards 2021: Get Ready to Witness the Best That Greater Western Sydney Has to Offer 
The 31st WSABE Awards 2021 is set to be the biggest event to date, having received over 400 award submissions which were subsequently shortlisted to 128 finalists across eighteen award categories. Winners will be selected by key industry leaders across the Greater Western Sydney region. It is a well-known fact that WSABE awards are merit-based, lending them credibility and making them so coveted in the business world. 
The 2021 WSABE Gala will be held at Rosehill Gardens Racecourse on Friday 26th November 2021, in the presence of Senator The Hon. Marise Payne, Minister of Foreign Affairs. The partners and category sponsors include industry veterans and big names such as Commonwealth Bank, City of Parramatta, AAA City Removalist, The Australian Turf Club, Business NSW, The Alternative Board, HomeWorld, DOOLEYS, EN-LINC, Australian Government Department of Foreign Affairs and Trade, Parra Leagues, Parramatta Light Rail, and UNE Sydney.
AAA City Removalist is proud to be a sponsor of the WSABE Awards for the fourth year now and excited to witness all the great business minds that Greater Western Sydney has to offer.